Marker Panel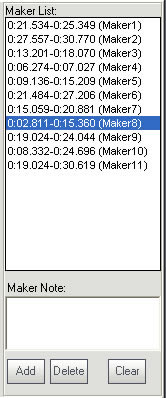 Click menu--<View>--<Marker Panel> to open or close this view.
It is a list of time offsets, or locations defined within an audio file or session.
Select the audio data in the wave view, then click <Add> button in the marker panel to add the marker. You can find out a marker in the wave view by clicking on the marker in the marker list.
Click <Delete> button to delete the current marker or click the <Clear> button to clear all markers.
Music Editing Master