Trim or Join Audio Files
Use your mouse click and drag on the Wave View to select the part you want to trim, then use Delete / Cut function to trim audio files.
To join several audio files, just open the first audio file and use you mouse click on the Wave View to set the start point of joining, then use <Past> / <Mix> / <Past From File> / <Mix From File> function to join audio files.
You can also use the <Open to Join > tool to join a number of audio files at the same time: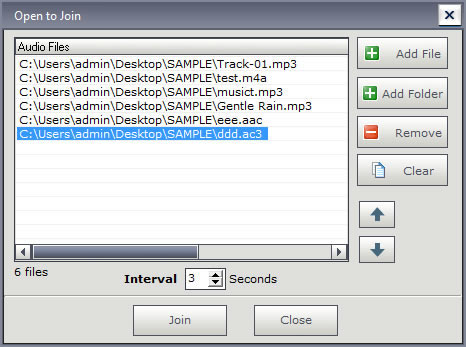 Click <Add File> button to add audio files.
Click <Add Folder> button to add all audio files in a folder.
Click <Remove> button to remove the listed files.
Click <Clear> button to remove all listed files.
If you want to adjust the order of listed files, just click <Previous> or <Next> button to do it.
Use the <Interval> control to adjust the the interval between audio files.
Music Editing Master